Icon Tile & Design
Delivering sustainable spaces while creating an environment that has Iconic beauty.
Icon began with Chanel who brought her love and eye for fashion and design into practice through her parent's tile company. Initially she had her sights set on the makeup and fashion industry, but as she tells it, "I would have preferred to dress up fashionably everyday, but I loved having the freedom of my own schedule and creation of my own design." She reengineered her passion through the lens of tile and created art through her tile installations in high end homes working with her families business. "It was a bit of a domino effect," she said. "At first I handled design aspects at my father's company. Then I branched out with my husband, Jamen, and we collaborated with Icon Tile & Design. With our new customers, my role began to evolve into creating more of the complete design package. I needed that – to share my vision of 'fashion that you get to live in.'
Jamen's passion centers on knowing the proper installation methods for the many different situations Icon encounters. "Tile keeps evolving" He states… "We stay informed on current installation methods through consistent education and communication within our industry."
In the process of executing their original designs Jamen and Chanel meet with architects, general contractors and project managers on a regular basis to educate them on the proper substrate conditions needed for a successful tile installation. Jamen and Chanel speak with manufacturers and have been asked to advise on future product lines.
Certifications
It's more than just an installation, it's an artisanship
Certified Tile Installers
The Ceramic Tile Education Foundation (CTEF) provides education and installer certification for professionals working in the ceramic tile and stone industry.
The CTEF Certified Tile Installer (CTI) program is the only third-party assessment of installer skill and knowledge which is recognized by the tile industry.
We believe our commitment to education, proper methods and quality is what sets us apart and affords us the opportunity to provide an Iconic yet sustainable installation. Each Icon technician undergoes the rigorous certification process to become a Certified Tile Installer.
Benefits of using a certified tile installer
Pass Written & Hands-On Tests
Verify Installation & Workmanship
Promote Industry Standards & Best Practices
Present & Communicate with Architects & Owners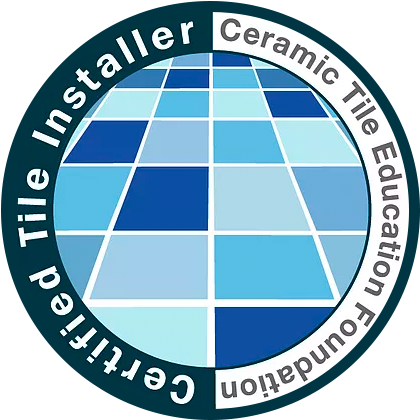 National Tile Contractors Association
Established over 70 years ago, the National Tile Contractors Association (NTCA) is a non-profit organization dedicated to the professional installation of natural stone and ceramic tile. It is recognized as the largest and most respected tile contractors association in the world.
As both members and State Ambassadors of the NTCA we work alongside industry leaders and incorporate the latest installation methods and tile trends into our projects.
Ready to create your dream space?